Make it personal!
It's time to personalize! Add a personal touch to our Organisers.
You have two options; the first is embossing, not recommended for the black organizers. it's not visible, or the second option hot foil printing. If you choose for the hot foil printing, then you can choose between a silver or a gold print.
Character
All uppercase A-Z and lowercase A-Z are possible, included some special signs & characters. See all the options on the picture below. Je can use up to 18 characters. Spaces are included in the character count.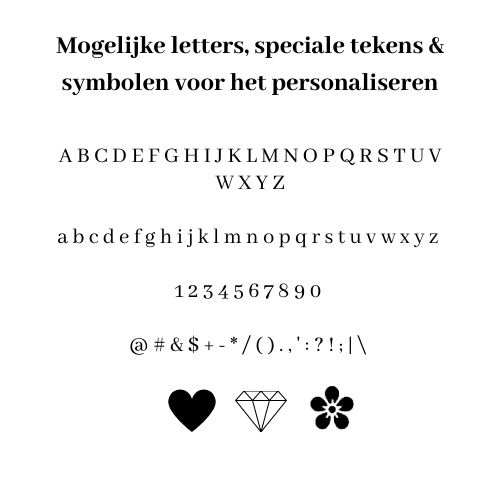 Please pay attention to spelling mistakes, uppercase and lowercase letters. We literally copy what you type, including your spelling mistakes.
If you want to use 1 of the special characters, you do this as follows;
Suppose your name is Amy and you want to place a heart behind it, then type in the input field: Amy (heart).
If you want the diamond, put (diamond) in quotation marks and the same goes for the flower (flower).
Please note, personalisation orders are non returnable unless faulty. Please allow an additional 5 days delivery time on orders containing personalised items.
businesses
You want to be one step ahead of other people, or you want to give your relations a personal gift, then read on quickly.
We already have a volume discount from 10 organizers and from 30 organizers it's even possible to have your own stamp made of your company logo!
But it doesn't stop there. At YOUR PERSONAL ORGANIZER we go a little further. It's also a possibility that we send a card with a message, or even take over the whole packaging & shipping.
Contact us by click the button below
collaboration
If you see an opportunity for a collaboration, please feel free to contact us and send an e-mail to hello@your-personal-organizer.com, tell us who you are, what you do and how you see a collaboration with us. We try to answer your email within 24 hours.