Organizer personaliseren
Je organizer personaliseren is nu nog gemakkelijker! Het is vanaf nu ook mogelijk om je organizer te personaliseren met je naam, bedrijfsnaam, slogan of hashtag.
Je hebt de mogelijkheid om te kiezen uit 5 verschillende kleuren, zwart, wit, zilver, goud & rosé goud.
Letters
Alle hoofdletters A-Z en kleine letters A-Z zijn mogelijk, inclusief een aantal speciale tekens & karakters. Zie voor het complete overzicht de afbeelding hieronder.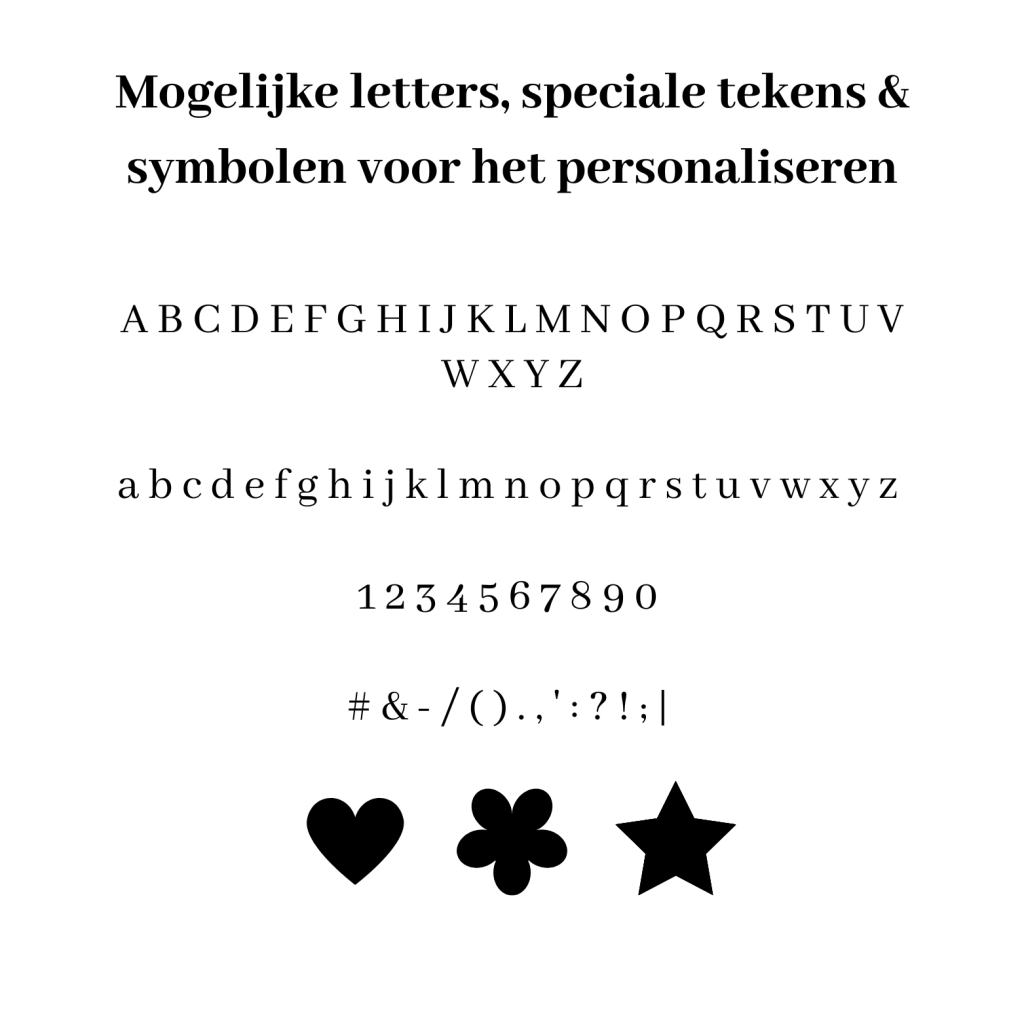 Let goed op spelfouten, hoofdletters & kleine letters. Wat jij typt, nemen wij letterlijk over, dus ook je spelfouten.
Wil je 1 van de speciale tekens gebruiken, dan doe je dit als volgt;
Stel je naam is Amy en je wilt hierachter een hartje plaatsen dan typ je in het invulveld: Amy (hartje).
Wil je de ster, dan plaats je (ster) tussen aanhalingstekens en hetzelfde geldt voor het bloemetje (bloem).
Houd er rekening mee dat gepersonaliseerde bestellingen niet kunnen worden geretourneerd, tenzij ze defect zijn. Houd rekening met een extra levertijd van 5 dagen voor bestellingen met gepersonaliseerde artikelen.
Bedrijven
Wil jij anderen net een stap voor zijn, of je relaties een persoonlijk geschenk geven, ook dan ben je bij ons aan het juiste adres.
Vanaf 10 organizers hebben we al een leuke staffelkorting en vanaf 30 organizers is het zelfs mogelijk om je eigen stempel te laten maken van je bedrijfslogo!
Maar daar blijft het niet bij. Bij YOUR PERSONAL ORGANIZER gaan wij net iets verder. Wil je dat wij een kaartje met een boodschap meesturen, of zelfs de verpakking & verzending overnemen, ook dat kan.
Neem via onderstaande knop contact met ons op.
Samenwerken
Zie jij een mogelijkheid voor een samenwerking, neem dan gerust contact met ons op en stuur een e-mail naar hello@your-personal-organizer.com , vertel ons duidelijk wie je bent, wat je doet en hoe jij een samenwerking ziet zitten. Wij streven ernaar je e-mail binnen 24 uur te beantwoorden.